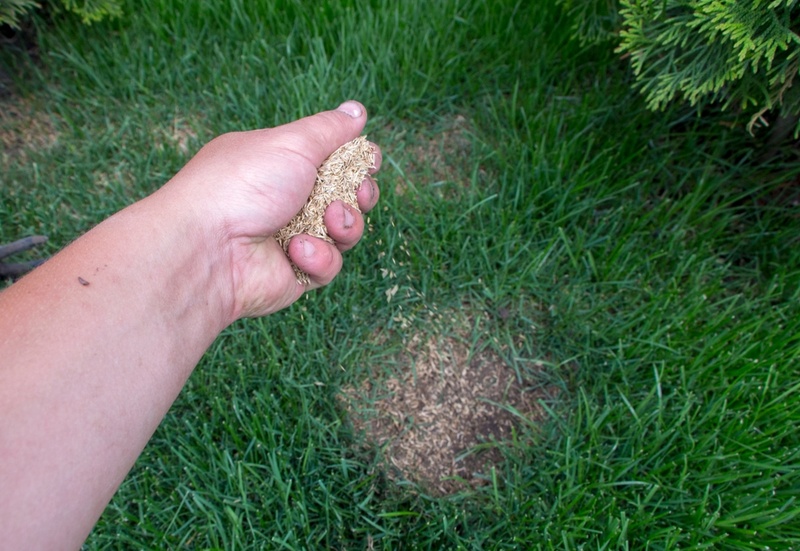 This how and when to overseed your lawn guide will ensure you have a lawn in good shape, know when the right time is to seed and look after your green grass. If you are wondering what overseeding is - it is a technique where seeds are sown into an existing lawn. Depending on the size of your property, the time it takes to overseed can vary, but it's known to be an excellent way of growing a healthy lawn without weeds. Overseeding also means you'll be growing your lawn without the use of chemicals.
Why Overseed Your Lawn
You might notice your lawn growing thinly over the years and patchy in places, allowing weeds to grow in bare areas. Overseeding is perfect for these areas but can also be used to thicken up most areas of the lawn.
When to Overseed Your Lawn
The ideal times to overseed lawns are in spring from March to early May, and late summer into early fall from the end of August into September. Fall is by far the best time to overseed. As tempted as you may be, do not overseed in summer. If you overseed in high heat, you'll most likely be wasting your time and resources. So, avoid overseeding during hot summer days, and choose a colder day instead.
How to Overseed Your Lawn
Start by removing weeds and any fallen leaves or anything in the way. You can also use a scarifier to remove moss if needed.
Mow the lawn on a low setting and remove all clippings.
Aerate your soil by forking holes into the lawn and adding a thin dressing layer over the area to be seeded. This only needs to be very thin and is called topdressing.
Sow your seeds as per the packet instructions and lightly rake to ensure the seeds are in contact with the soil.
Lightly press down, walk or pat the area.
How to Care For Your Overseed Lawn
You will need to make sure the grass seeds don't completely dry out. They need moisture to survive. Water with a fine rose fitting to ensure the seeds don't get washed away by too much pressure, and keep moist to ensure the seeds germinate. Your lawn will need mowing, but start low in spring and raise the setting. For newly sown seeds, make sure the grass is at least 5cm to 8cm before you cut on a high setting.
Keeping a nice lawn is one of gardening's great pleasures, and it doesn't have to be as hard as it looks. Overseeding will definitely help to keep it thick and green.
Visit us in store for grass seed and tools needed for a thriving lawn.