Garden Centre
Are you looking for a convenient and pet-friendly garden centre with a wide assortment of plants and gardening supplies?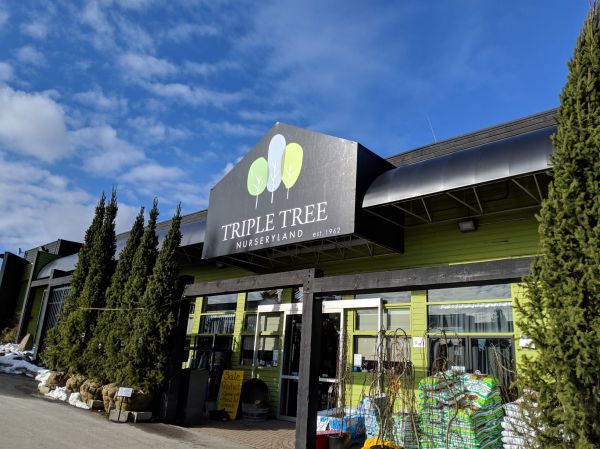 Look no further than Triple Tree Nurseryland! Our nursery is the perfect destination for gardeners of all levels, from beginners to experts.
Conveniently Located
Triple Tree Nurseryland is located in the heart of the city and closeby to Vancouver, making it easy for you to pop in and find everything you need for your garden. Whether you're looking for a specific plant or just browsing for inspiration, our garden centre is the perfect spot for a quick visit or a leisurely stroll.
Pet-Friendly
We understand that your furry friends are part of the family, and we're happy to welcome them to our garden centre. Feel free to bring your dog or cat along with you as you shop for plants and gardening supplies. They'll love the sights, smells, and sounds of our nursery just as much as you will.
Free Parking
At Triple Tree Nurseryland, we want to make your shopping experience as easy and stress-free as possible. That's why we offer free parking for all of our customers. You won't have to worry about finding a spot or feeding the meter when you visit our garden centre.
Wide Assortment
We pride ourselves on having a wide assortment of plants and gardening supplies. Whether you're looking to start a vegetable garden, create a beautiful flower bed, or just add a few houseplants to your home, you'll find everything you need at our garden centre. We have a variety of indoor tropical plants, outdoor plants, and more, as well as gardening tools, potting soil, and other supplies.
Visit Us Today
We can't wait to help you create the garden of your dreams. So why wait? Come and visit us at Triple Tree Nurseryland today. Our friendly and knowledgeable staff are always happy to help you find what you're looking for. we assure you a great shopping experience, so come and visit us at Triple Tree Nurseryland, a garden centre like no other.