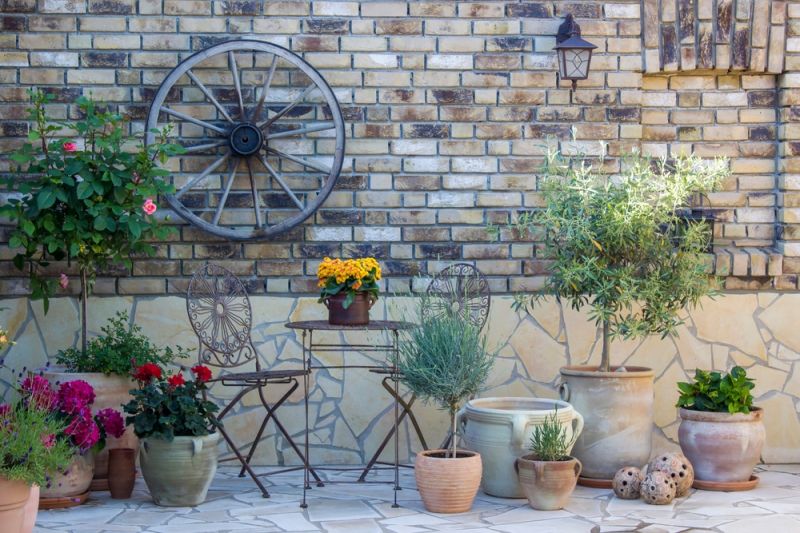 Imagine having your very own Mediterranean getaway in your garden – relaxed, informal and fragrant in the summer sunshine. With these simple tips, it's easy to add a touch of Mediterranean style to your garden.
Tips to add a touch of Mediterranean style to your garden
Get your soil right. Most Mediterranean plants like very well-drained soil, and they won't be happy sitting in cold, wet soil over winter. If your soil is heavy clay, dig in lots of horticultural grit and compost to improve drainage before planting.

Replace lawns with gravel for a low-maintenance garden with Mediterranean style. Put down a good water-permeable weed membrane first, then add a layer of gravel on top. Use a larger size of gravel (between 10-20mm) on paths to make it easier on wheels and shoes. Finer grades of gravel (6-8mm) are ideal for spreading around plants.

To plant through a weed membrane, scrape away the gravel and make an X-shaped cut in the membrane the size of the hole you need. Fold back the flaps, dig the hole and place your plant in it, then backfill with soil, unfold the flaps of the membrane, so they sit around the base of the plant, and spread the gravel back around the plant.

Fill terracotta pots with colourful flowers. Scented-leaved pelargoniums (tender geraniums), osteospermums and gazanias are all perfect for that sun-drenched look.

Plant Mediterranean herbs like thyme, rosemary and lavender around benches and seating areas. On warm days the fragrance from the essential oils in the leaves will perfume the air, transporting you in your imagination to your favourite holiday spot.

To get the right mix of simple planting and structure, use a limited selection of plants repeated through the garden. Evergreens like yew and cypress, with their dark foliage clipped to shape, can be used to punctuate the softer planting and provide a year-round structure. Cistus (rock rose), lavender, santolina and salvias are all Mediterranean garden classics.

Any Mediterranean garden needs a place where you can sit and entertain family and friends. Put up a pergola to provide shade and add some climbing plants to provide colour and scent. Star jasmine (Trachelospermum jasminoides) or wisteria are good options, or you could go for a passion flower like Passiflora 'Constance Elliot', which looks exotic but grows surprisingly vigorously even in our temperate climate.

Choose furniture that looks simple and rustic, made from materials that will weather beautifully over the years. Wood or wrought iron benches, chairs and tables will add to the appeal of your garden.

Water plays a big part in any Mediterranean garden, adding an atmosphere of peace and tranquillity. A free-standing, self-contained water feature is easy to install, and if you go for a solar-powered model, you won't even need to worry about a power supply.
We have a fantastic range of plants, pots and furniture to add some Mediterranean style to your garden. Visit our centre soon and give your garden a new look this summer!