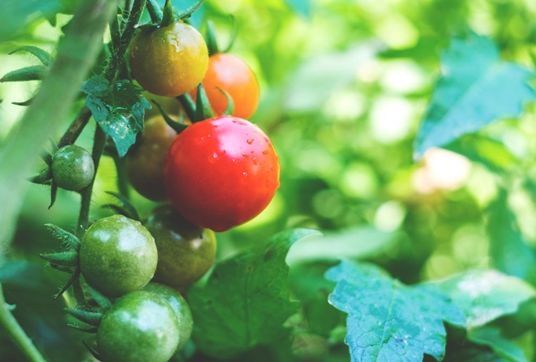 Did you know tomatoes are among the most popular crops to grow in your own garden? Try these 4 tips and see for yourself how tasty tomatoes from your own garden can be! There are just a few hidden secrets that could help you along the way.
It's all about adding nutrients, reducing risks and finding the best location. After that, your tomato plant needs freshwater & sunlight to grow those tasty, delicious tomatoes!
1.Find the right sunny spot in a container or the ground
You can plant tomatoes in your garden or a container. The aim is to reach 8 hours of sun per day in a warm spot in your garden.
Remember to use a large enough container. We suggest a minimum of 14" across and deep. Ensure that the container has drainage holes.
If you have a good spot that enables you to plant the tomatoes in the ground, that's even better & easier for you to use but don't be shy to use a container.
2.Use Nurseryland Liquid Tomato Food
When it comes to rich yields, you need the right nutrients. Kelp extract is one of the nutrients that support tomato plants from sow until harvest. The Nurseryland Liquid Tomato Food with kelp extract is the first and essential step to promote healthy plants and higher yields.
A healthy tomato plant needs the right concentration of nutrients to stimulate natural growth. One capful of this concentrate mixed with water every time you water your tomato plants is enough. You will see how it helps to grow a big tasty yield of yummy tomatoes soon enough! This fertilizer is specially designed for professional tomato grower results and ensures immediate root uptake for faster results.
3.How to water tomato plants?
When it comes to watering, the word 'deep' cannot be highlighted enough. That means that the root ball should be soaked every time you water the plants. That's why you water deeply and thoroughly, after which you wait for around 3 to 4 days. During the hottest days of summer, daily watering can be necessary. Check the soil if it's moisture enough. A somewhat dark soil usually means that it's still moist.
4.Support your plants
For maximum results, it's beneficial to stake or cage your plants for extra support along the growing period. This will improve the air circulation and at the same time protects your plants from ground pest problems, which they are vulnerable to. The support also helps the plant to remain stable while continuously growing its tomatoes. The plant can carry more weight -which means more tasty tomatoes!- when it's supported.
More advice on growing your own tomatoes?
For more tips on how to grow your best tasty tomato plants, you're always welcome in our garden centre. We hope to welcome you to our garden centre soon! We're happy to give you more tips and advice about plant care and gardening.