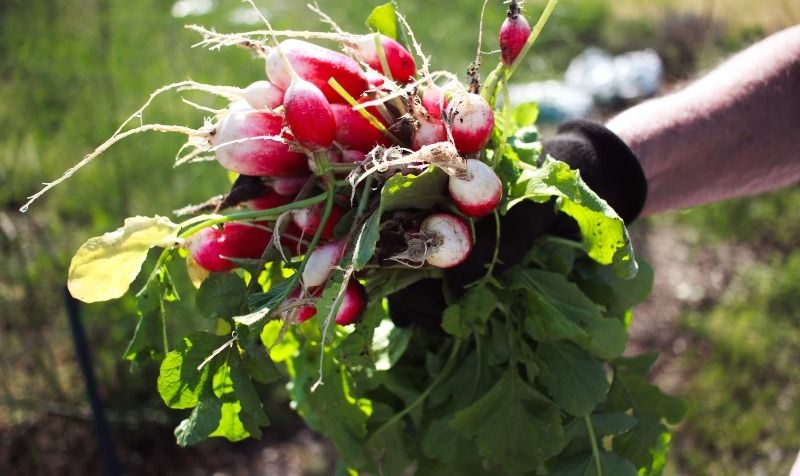 June is such a busy month in the kitchen garden from keeping on top of weeds to watering, planting out and harvesting plus even more sowing - it's not too late! Then, there is always the weather to contend with! Will it be too dry, or will there be rain? These are the questions gardeners all over the country ask themselves daily. Most likely, June will be sunny and the longest day of the year will be here before you know it. So, that means one thing! It's time to make sure your plants are ready to grow.
1. Aubergines, tomatoes, and cucumbers
If you are growing aubergines, tomatoes, and cucumbers outside, make sure they are in a sunny but sheltered spot with supports ready for them to climb. Keep them well-watered and remember to feed them as well for more harvests in just a few weeks.
2. Lettuce, kohlrabi, and beetroot
Have you sown lettuce, kohlrabi, and cucumbers undercover? If you've started them off in a greenhouse, make sure you are hardening them off and planting them out soon to give them plenty of time to grow ready for you. It's almost time to harvest them and create a fresh salad with homegrown food like these. Nothing beats a homegrown salad.
4. Corn, squash, and beans
Try the 'three sisters planting method' and grow all three of these in one space. It's a great space saver and each supports the other. Beans fix nitrates in the soil as it uses the corn to grow up. Squash is planted around the outside and together, not only do they look great but they can all be grown together in a small space for abundant harvests.
5. Marigolds and nasturtiums
If you haven't already planted out some edible flowers, there is no time like the present. Both Marigolds and Nasturtiums are great companion plants deterring pests, but they are also edible! Add some brightly coloured flowers to your salads straight from your kitchen garden. These varieties are ready to harvest when their colour is bright enough.
6. Turnips and swede
Both turnips and swede can be planted out if you have already grown undercover, or they can be sown directly into the soil where they are to grow. Both, when harvested at just the right time, can be delicious and great to cook with. Don't miss out on these species and sow those seeds as soon as you can. You can still buy lots of seeds at our garden centre in Maple Ridge
7. Radish, spinach, and pak choi
Supercharge your salads with these three that can all still be sown right now, so there is no need to miss out! Keep successionally sowing for more crops. Most people don't think of pak choi in their dishes because of its bitter taste. Try the Asian way of marinating your pak choi, spinach, and radish in soy sauce and top it off with sesame seeds. You will be amazed by the delicious taste. Variating with food makes any heart beat faster.
8. Annual bedding
You might not think of annual bedding as something to grow in a kitchen garden but, it really is! Add some colour, texture, and a little something different with some bedding plants in and around your vegetables.
Check us out in store for vegetables, fruit, and bedding to grow in your kitchen garden.