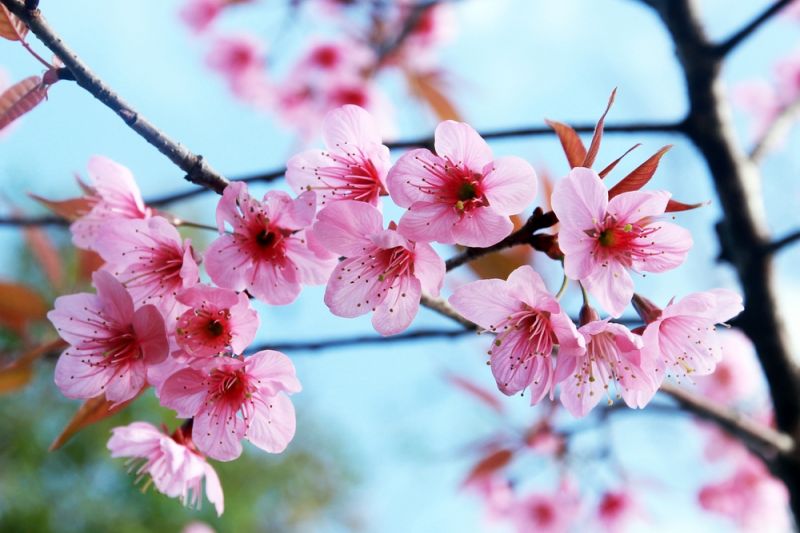 April's here and spring really is in the air. Spring bulbs are flowering, leaves are appearing on trees, and the air is full of birdsong. Things are starting to happen in the garden too, and there's plenty for gardeners to do to get ready for the year ahead. Here are our top 15 gardening tips for April.
Top 15 Gardening Tips for April
Weed beds and mulch with compost or well-rotted farmyard manure to improve the soil structure. This helps your plants cope better with both wet and dry summer weather.

Feed your roses and tie climbing and rambling roses back to supports.

Once spring-flowering shrubs like Viburnum x bodnantense, Forsythia, and Chaenomeles (Japanese quince) have finished flowering, prune them to keep them looking tidy.

Hard prune dogwoods like Cornus sibirica and Cornus alba so that they will produce lots of brightly coloured new stems for next winter.

Deadhead any faded daffodils and tulips, but leave the foliage to die back naturally before cutting it off.

Water houseplants more frequently as they start to grow.

Watch out for pests like aphids and slugs and tackle them early before they damage your plants.

As the weather warms up, keep on top of weeds by regular hoeing, and dig up perennial weeds like dandelions and docks with a hand fork.

Plant herbaceous perennials and ornamental grasses to fill gaps in the border. Lift and divide overgrown clumps of perennials, using the sharp edge of your spade's blade to cut through woody roots.

Now that there's less risk of sudden frosts, prune penstemons, cutting stems back to new growth lower down. Pinch out the growing tips of Fuchsias and sweet pea seedlings to produce bushy plants with plenty of flowers.

Add wildflowers to your borders by sowing hardy annuals like cornflowers, love-in-the-mist and Californian poppies, or create a mini-meadow in your garden with a wildflower seed mix.

Sow broad beans, carrots, beetroot, and parsnips outside now. You can also sow Brussels sprouts and other Brassicas into seedbeds outdoors. Indoors, sow runner and French beans, squash, cucumber, and courgettes in small pots.

If you have tomato seedlings growing in the greenhouse, pot them into larger pots as they grow. If you haven't sown any tomatoes yet, there's still time to do it this month.

Plant early potatoes in the vegetable garden or in grow bags or large containers on the patio.

Get your lawn ready for summer by giving it a spring feed and aerate it by spiking it with a garden fork or hollow tine aerator.
Get ready for a great year of gardening! Visit our centre and stock up on seeds, plants, tools, and all your gardening needs. Our friendly staff will be happy to help you.