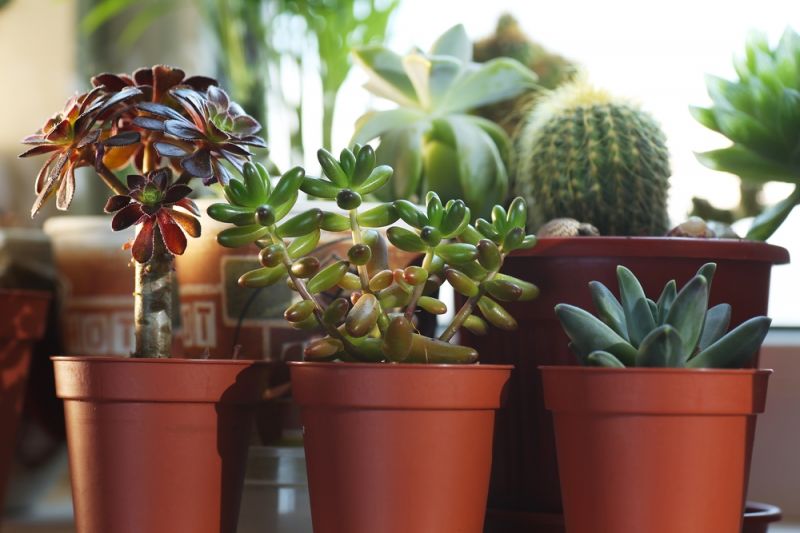 We all know that cacti and succulents are by far the easiest plants to keep alive. But if we want them to thrive at their best, we might need to take that little extra step in how we look after them. We will explain both the basics and the extra care tips today to enjoy your cacti and succulents to the maximum.
How Much Water do Cacti and Succulents Need?
It's something we all know: cacti and succulents don't need a lot of water. But, how much is enough and what is too much? We can generalize the following two rules of thumb:
During the growing season, in spring and summer, cacti and succulents need more water. Water them around every 1-2 weeks, depending on the heat.

In winter and fall, watering once every 4 weeks will be enough. A mistake often made is to water too much during this time, so make a monthly ritual of watering and that will usually be enough. It's good to let the soil dry out in between watering, so it might help to keep that in mind every time you want to water them again. These periods of drought are similar to what the plants are used to in their natural habitat.
What is the Right Position for Cacti and Succulents?
The correct location for cacti and succulents is anywhere in a bright spot. Be careful, though, not to place your cacti and succulents in direct sunlight. Do you see some yellow spots appearing? This probably means there is too much exposure to direct sunlight.
Extra Steps Towards Thriving Cacti and Succulents
That's not it yet, because, for those who want to do the extra steps to make their cacti and succulents actually thrive, we have some more tips and tricks:
Soil: Nurseryland Cactus and Succulent Mix contains a blend of fertilized indoor potting soil and sand which ensures drainage and a firm foundation. Nurseryland Organic Cactus and Succulent Mix is a great extra tool to use if you want to actually provide your cacti and succulents with an optimal environment.

Fertilizer: most blends that are highly diluted will do for cacti and succulents. However, a blend that's low-nitrogen and water-solubles would be the best. The best timing for this would be before and during the growing season, in spring and summer.
These steps might be new for you, because generally speaking, we say that cacti and succulents don't need much special care. But, since they don't grow so fast, you might want to support them to look healthy and thriving anyways, so you enjoy them for a longer period!
Make Your Cacti and Succulents Happy and They Will Thrive
Cacti and succulents aren't needy, but some extra steps of care make them thrive for real. It's about the right combination of basic needs such as water and light, topped off with the right formula of soil and fertilizer. The growth, strength, and brightness of colours show how cacti and succulents are thriving!