Which Plants Attract Pollinators?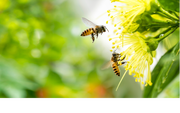 Bees and butterflies are an essential part of the ecosystem, so the least we can do to help them out is plant the right plants that attract more pollinators to our gardens! In this article, we'll highlight some of the popular plants that attract the wildlife we need for a healthier ecosystem.
Who Are Pollinators?
Pollination is what happens when pollen is moved within flowers, or from flower to flower. Pollination is done by pollinators such as birds, bees, bats, butterflies, beetles, moths, other animals, or by the wind. It's essential to help pollinators find enough nutrition; they play a key role in growing our own food. With the right choice of plants, you can actually play an important role for the whole eco-system, whilst enjoying the view of more wildlife in your own garden.
Why Are Pollinators Important?
Bees and butterflies are some of the pollinating insects. Many plants, even more than we often imagine, need pollinators to be able to grow. Nowadays, there's a decline in the number of pollinators, caused by different factors. Some of them include insecticides, herbicides, and loss of diversity. We rely on pollinators for around ⅓ of our food, so we can definitely do our part to help them find enough food in our gardens! Besides that, pollinators bring back some liveliness in the garden.
Plants That Attract Pollinators to the Garden
Some of the plants that will make your garden very attractive to pollinators are:
Borage: with the star-shaped blue flowers this plant is also known as a starflower. The flowers provide sweet nectar, which is perfect for bees. Besides that, the seeds, leaves, and flowers are edible.
Echinacea: many butterflies will find their way to the blossoming flowers. They also bring a joyful colour to every border.
Dahlia: the ever-delightful Dahlia is popular for many reasons. For pollinators, the best varieties are simple single-flowered types.
Dandelion: there's no need to take them out because they attract many beneficial insects to your garden.
Butterfly bush: obviously, this plant will help butterflies to find their way to your garden. The different colours of flowers with a special fragrance will make butterflies love your backyard!
Lavender: this is one of the perennials that's actually a must-have to attract pollinators. What's better than the smell of lavender in your own garden?
Snapdragon: bumblebees love the snapdragon, because of the scent, colours, and physical form. In fact, the snapdragon is completely adjusted to the bumblebee's needs, so to attract them to your garden, this is your go-to plant.
Sunflower: birds and insects love sunflowers, and so do many people.
Shopping list
Here's a recommended shopping list:
Bug Hotel
Nurseryland Organic Plant Food
More Tips on Finding Plants to Attract Wildlife?
For more specified tips, feel free to ask your questions in our stores. Our team will be happy to help you with personal advice such as the right plants for your garden, the location, the climate, the position, and the soil to help you attract more pollinators.